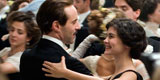 Wednesday, March 20, 5:00pm, UNC Charlotte main campus, Student Union Theater studentunion.uncc.edu
Anne Fontaine, France. 2009 / 105 min.
Introduction by Allison Stedman, Associate Professor of French, UNC Charlotte. Discussion will follow screening.
Anne Fontaine's thoughtful exploration of the pre-fame life of the world's greatest fashion designer focuses on Coco Chanel during the Belle Epoque. The film opens in 1893 with a powerfully grim scene of 10-year-old Coco and her sister unceremoniously dumped at an orphanage and ends around World War I, a few years before the Chanel empire is launched.