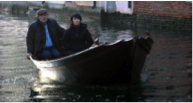 Saturday, March 16, 1:30pm, UNC Charlotte Center City Auditorium, 320 E. 9th Street, centercity.uncc.edu
Andrea Segre, Italy. 2011 / 92 min.
Introduction by Director Andrea Segre and Daniela Dal Pra, Lecturer of Italian, UNC Charlotte. Discussion will follow screening.
Set in Chioggia, a traditional small city-island in the Veneto lagoon, this is the story of Chinese girl Shun-Li, the new bartender in the local pub, and the Slavic fisherman Bepi. Their encounter is a poetic escape from solitude, a silent dialogue between cultures and an odyssey into the deep heart of the lagoon. But their friendship upsets both the Chinese and local communities, who feel threatened by this new voyage.