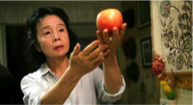 Sunday, March 17, 1:00pm, UNC Charlotte Center City Lecture Hall, 320 E. 9th Street, centercity.uncc.edu
Lee Chang-dong, South Korea. 2010 /139 min.
Introduction by Enoch Park, Director of Distance Learning, Pfeiffer University. Discussion will follow screening.
Mija, in her sixties and in the early stages of Alzheimer's, lives on government welfare and takes care of an elderly man to provide for her demanding grandson. One day, she enrolls in a poetry class at the community cultural center. When she discovers that her grandson has committed a heinous crime, she turns to nature and poetry and overcomes her fading memory to write her first poem, Agnes's Song.