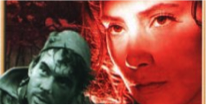 Monday, March 18, 5:30pm, UNC Charlotte main campus, College of Education Building 010
Mikhail Kalatozov, Soviet Union. 195 7/ 94 min.
Introduction by Yuliya Baldwin, Instructor of Russian, UNC Charlotte. Discussion hosted byUNC Charlotte Russian Clubwill follow screening. Special thanks to Mosfilm Administration for permission to show the film.
A film about love and loss during World War II. Veronica and Boris are blissfully in love, until the Nazi invasion tears them apart. Boris is sent to the front lines and is killed while saving the life of a fellow soldier. Meanwhile, Boris's draft-avoiding cousin steals Veronica by brute force, yet she never gives up on her true love. Palme d'Or prize at the 1958 Cannes Film Festival.