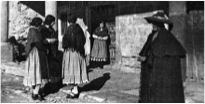 Sunday, March 17, 7:00pm, Bechtler Museum of Modern Art, 420 S Tryon St, www.bechtler.org. Reservations required. Please call Visitor Services at 704.353.9200 to reserve a seat.
Florián Rey, Spain. 1930 / 57 min.
Introduction by Maryrica Lottman, Associate Professor of Spanish, UNC Charlotte. Discussion and Q & A with Ethan Uslan will follow screening.
A silent film with live piano accompaniment by Ethan Uslan (www.uslanmusic.com). English translation of the Spanish intertitles performed by WDAV's Frank Dominguez (www.concierto.org). Steinway piano generously provided by Piedmont Music (www.piedmontmusiccenter.com)
This haunting film, a landmark of Spanish cinema, tells the story of a peasant family torn apart by famine and chance, but most of all by an antiquated code of honor. Weather calamities drive the villagers to seek survival in the city, where conflicts ferment in a yet more challenging environment. The film exhibits great emotional intensity, an anthropological interest in agrarian life and a visual style influenced by Russian expressionism.