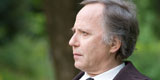 Wednesday, March 13, 5:00pm, UNC Charlotte main campus, Student Union Theater, studentunion.uncc.edu
Philippe Le Guay, France. 2010 / 104 min.
Introduction by Michèle Bissière, Associate Professor of French, UNC Charlotte. Discussion will follow screening.
Set in 1962, the film centers on the transformation of third-generation stockbroker Jean-Louis, husband of a brittle, insecure woman from the provinces and father of two boarding-school brats. The self-centered businessman starts to discover his altruistic side after the arrival of the new Spanish maid María, who stirs deep compassion in Jean-Louis, with her stories of working 15 hours a day as a teenager at a tobacco factory back home during Franco's regime.