Est-Ouest/Восток-Запад/East-West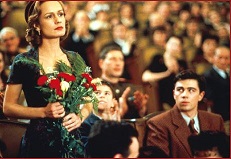 Wednesday, March 19, 4:30pm, UNC Charlotte main campus, College of Education 010
Director Régis Wargnier, French-Russian-Spanish-Bulgarian, 1999/120 min. Russian and French with English subtitles
Introduction by Anton Fedyashin, Executive Director of Initiative for Russian Culture, Assistant Professor at American University, Historian. Discussion panel after screening.
Live music performance "Russian Songs of the War Time" and Refreshments sponsored by the Russian Club at 4:30pm.
East-West is intense and powerful! After World War II, former White Émigrés are offered Soviet citizenship, amnesty, and an invitation to return to the 'Holy Russia'. Among the returnees are Alexei, his French wife Marie, and their son Sergey. But Joseph Stalin's offer was merely a tactical step. On arrival to Russia, many are executed on the spot or sent to the Gulag. A very special fate awaits Alexei and his family.
Awards:
East-West was nominated for the Golden Globes and the Academy Awards in 1999. It won prizes at the 2000 Miami International Film Festival, Palm Springs International Film Festival, and Santa Barbara International Film Festival.
Trailer: http://www.imdb.com/title/tt0181530/?ref_=fn_al_tt_1
The film, lecture and refreshments are sponsored by the UNC Charlotte Russian Club thanks to a SGA grant. "Funded in part by the Student Government Association with your student activity fees!  SGA & SAFC do not necessarily endorse the beliefs or actions of this organization."