Thursday April 2, 2:00 pm
COED 010, UNC Charlotte Main Campus
L'Image manquante / The Missing Picture
Director Rithy Panh
France, Cambodia, 2013, 92 min
In French with English subtitles
Presented as part of The Tournées Festival, which was made possible with the support of the Cultural Services of the French Embassy in the US, the Centre National de la Cinématographie et de l'Image Animée, and the Franco-American Cultural Fund.
Additional sponsors are the Alliance Française de Charlotte and the UNC Charlotte French Club.
Introduction by John Cox, Associate Professor of Global, International & Area Studies, UNC Charlotte. Discussion will follow screening.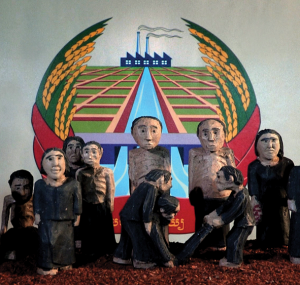 L'Image Manquante / The Missing Picture © Strand Releasing
How can a filmmaker portray incomprehensible barbarity, especially when he himself and everyone he knew and loved was directly affected by this horror? Rithy Panh ingeniously uses carved and painted figures to represent himself and his family (and many others), who had to flee Phnom Penh for agricultural labor camps on April 17, 1975, the day that the Khmer Rouge seized Cambodia's capital city. In calm, occasionally astringent first-person narration (read by Randal Douc), we learn that Panh was 13 when Pol Pot began his genocidal regime; by 1979, the year that the Khmer Rouge leader was removed from power, the director's parents, sisters, and a niece and nephew were dead, among the millions who perished. The title refers to the fact that almost all of the documentary footage—snippets of which is interspersed throughout the film—that exists from the Khmer Rouge's horrific four-year reign is nothing but propaganda that glorifies the party and its commander. What was never documented was the legions of Cambodians and their relentless suffering. Against intricately detailed dioramas, Panh's small clay human surrogates inexorably, almost magically, assume the qualities and dimensions of real people. Un Certain Regard Prize – Cannes Film Festival (2013); Official Selection – Academy Awards (2014), Toronto International Film Festival and New York Film Festival (2013)
Reviews:
Meticulous direction. Panh honors the Khmer Rouge's victims while staging the agony and responsibility of memory itself. — Richard Brody, The New Yorker
Social Media Links: