Monday, March 21, 3:30pm
Student Union Movie Theater, UNC Charlotte Main Campus
Timbuktu
Director Abderrahmane Sissako
France, Mauritania, 2014, 100 min
In Arabic, Bambara, French, English, Songhay, and Tamasheq with English subtitles
Presented as part of The Tournées Festival, which was made possible with the support of the Cultural Services of the French Embassy in the US, the Centre National de la Cinématographie et de l'Image Animée, and the Franco-American Cultural Fund.
Additional sponsors are the Alliance Française de Charlotte and the UNC Charlotte French Club.
Introduction by John Cox, Associate Professor of Global, International & Area Studies, UNC Charlotte. Discussion will follow screening.
In his magnificent fourth feature film—an Academy Award Nominee for Best Foreign Language Film in 2015—, Abderrahmane Sissako demonstrates his remarkable ability to thoroughly condemn religious fanaticism and intolerance with subtlety and restraint. Timbuktu concerns the jihadist siege of the Malian city of the title in 2012. A ragtag band of Islamic fundamentalists announce their increasingly absurd list of prohibitions—no music, no sports, no socializing—via megaphone to Timbuktu's denizens, several of whom refuse to follow these strictures, no matter the consequence. The jihadists reveal themselves to be men less concerned with the teachings of the Koran than with enforcing draconian, and ever arbitrary, law, but they are presented as multidimensional characters, though the intolerant way of life they insist on is never less than criminal.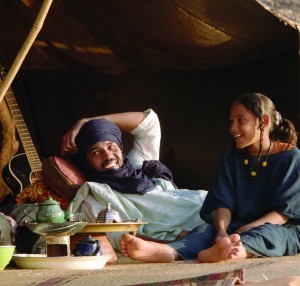 ©Cohen
Reviews :
"Not just a timely movie, a great one…Timbuktu feels at once timely and permanent,
immediate and essential." —A.O. Scott, The New York Times
Academy Award Nominee, Best Foreign Language Film 2015
Social Media Links: Timbuktu on YouTube