Monday, March 28, 7:30pm
Student Union Movie Theater, UNC Charlotte Main Campus
Malacrianza / The Crow's Nest
Director Arturo Menéndez
El Salvador, 2014, 70 min
In Spanish with English subtitles
Introduction by M.A. Fellows Mariam Jameel and Brenda Quiñones Ayala, Department of Languages and Culture Studies, UNC Charlotte. Discussion will follow screening.
The first fiction film from El Salvador to be produced since 1969 and the first ever to see a worldwide release, The Crow's Nest follows Don Cleo, a humble piñata salesman who receives an extortion letter at his doorstep. If he doesn't pay $500, a small fortune for him, within 72 hours, he will be killed. Don Cleo quickly decides to gather the money through friends, but the harder he tries to raise the funds, the deeper into trouble he gets. If Don Cleo hopes to survive, he'll have to face his fears and stand up to his tormentors.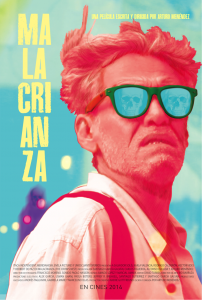 Reviews:
"The Crow´s Nest is emerging as a great discovery (from IFF Panama), and proofs that talent can come from anywhere in Central America – though is still a huge challenge to make movies in El Salvador." – VARIETY
"Menéndez's film showcases one of the most serious problems not only in El Salvador, but in Honduras, Guatemala and México, although the director insists that the film goes beyond a denunciation of violence in his country…[it is] a wake up call to Central American reality." – Alberto Nájar, BBC WORLD
"The Crow´s Nest proudly puts El Salvador in the cinematic map." – Josh Gardner, AMERICAN FILM INSTITUTE
"The Crow´s Nest builds a deep dialogue about the meaning of "hope " in a region where we have been led to believe that the word is out of dictionaries." – Christian Sida Valenzuela, VANCOUVER LATIN AMERICAN FILM FESTIVAL
"A milestone in the history of Salvadorean cinema." – Columba Vertiz, REVISTA PROCESO
"Great visual intensity…" – Héctor Silva Ávalos, REVISTA FACTUM
Social Media Links: Malacrianza / The Crow's Nest trailer
The Spanish Film Club series was made possible with the support of Pragda, SPAIN arts & culture and the Secretary of State for Culture of Spain.