Wednesday, March 30, 11:00am
McKnight, UNC Charlotte Main Campus
9 Рота/The 9th Company
Director Fyodor Bondarchuk
Russia, 2005, 126 min
In Russian with English subtitles
Sponsors: Art Pictures Studio and the Russian Club at UNC Charlotte
Discussion led by Kate Skorodinskaya, MA, instructor in Russian studies, will follow the screening.
"9th Company" is a war drama. A group of young Soviet soldiers are drafted to serve in Afghanistan during the final year of the Soviet conflict. It shows the contrast between the inhumane conditions of the war and vibrant young men who became a unit. During the defense of Height 3234, they were forgotten, but continued to fight, not aware that the war had ended. The film is loosely based on a real-life battle that happened in 1988, during the last Soviet military operation in Afghanistan.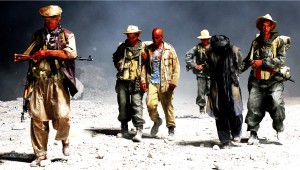 Reviews:
 « 9th Company is a well-crafted, impressively staged, highly sympathetic film»  –Philip French "The Guardian"
«…Fyodor Bondarchuk's The 9th Company was an enormous success and became post-communist Russia's second highest grossing film to date» –Luke Harding "The Guardian"
Awards:
Golden Eagle Award – Best Feature Film, 2006
In 2006, Russia selected the 9th Company as its candidate for the Academy Award for the best foreign Language Film.
Social Media Links: The 9th Company on YouTube